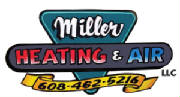 Hello and Welcome to Miller Heating & Air!

We are your hometown dealer of furnaces, boilers, fireplaces, central air conditioning, indoor air quality, pellet and corn burning stoves and inserts.
New Location:
102 Tilmar Avenue, Elroy
North side of Elroy, HWY 80/82 intersection.

Hiring the right contractor can make all the difference in a building project. Our site will guide you through several commercial and residential projects we have done, as well as the services we offer, information for you to print and use, and important company information.

We hope you will find useful information in the site about our company. We look forward to working with you.

Our address:

Miller Heating & Air LLC
102 Tilmar Ave.
Elroy, WI 53929

Phone: (608) 462-5216 or

(608) 372-1095
Fax: (608) 462-5215

or e-mail us at:


Save money on your Utility Bills!

Now is the perfect time to update your heating and cooling systems. We are offering systems that are up to 98.2% effiecient, which could save you $800 a year!